ABOUT US


While living in Boston, MA, I have since 1998 had the honor of promoting tourism and introducing artists and artisans from the northern provinces of Sweden to North America. I am an Honorary Ambassador to
Arvidsjaur
in the province of
Lapland
near the
Arctic Circle
– a charming town with 4,000 lakes, 15,000 reindeer, only a few hours of daylight in the winter, and midnight sun in the summer. Nearby are attractions like the famous
Icehotel
with its Absolut Vodka Icebar, and the
Jokkmokk's Winter Market
. This yearly event was started by the indigenous
Sami People
400 years ago and attracts 30,000 visitors from all over the world.

The exotic Arctic region of northern Europe has unique handicrafts not found elsewhere. The native materials and techniques have been used for thousands of years. I travel often to the region to search out the best artists and artisans and I have established personal relationships with the artists I represent. Because of my excellent contacts, SwedArt is able to bring exquisite and rare handmade articles made in reindeer antler, reindeer leather and fur, and Arctic hardwoods to you.

I hope you will enjoy browsing my web site and that you will find what you are looking for, whether it is a special gift, collector item, or keepsake for yourself. If you have special requests, please e-mail me

and I will do my best to help you find what you are looking for. It is my intention to grow my business to include everything from unique travel experiences to more unique and hard-to-get art collector pieces from the region.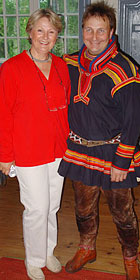 ABOUT OUR PRODUCTS

SwedArt's™ popular and stunning Lapland Jewelry collection is unmatched in quality and it is also authentic. We are constantly coming up with new designs and colors to the enjoyment of our growing base of customers. This type of jewelry is a vastly popular fashion trend all over the world but difficult to find i

n stores

. Lately, US celebrities have been seen sporting reindeer bracelets. We also carry exquisite embroidered reindeer leather purses made exclusively for SwedArt™.

The Lapland Santa or Gnome (Swedish "tomte") is designed and handmade exclusively for SwedArt™. He is a signed collectible Santa that has become extremely popular mostly by word of mouth. Some people have contacted me after buying a Lapland Gnome to tell me about what he did for them in their home ……...and they were not kidding……!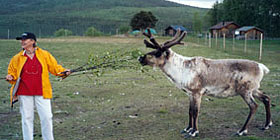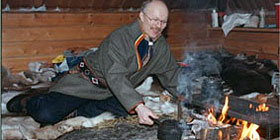 SAMI CULTURE AND TOURISM IN LAPLAND


If you are interested in learning more about the rich
Sami culture
with its 10,000 year old history, you will find interesting links and information about the Sami on our site.

If you are interested in traveling to Sweden and to Lapland, I would be happy to help you get excellent information and suggestions about where to go, what to see, and what to do. Europe's last wilderness is in Lapland and it is a spectacular and inspiring area to visit. You will fall in love with the generous and welcoming people, the delicious local foods, the exotic scenery, the attractions, the endless activities available, the craft, the souvenirs, and the culture. If you like to hike, canoe, hunt, fish, or if you would like to try winter golf with red balls and a reindeer caddie, Lapland is where you should go! Many die-hard European golfers fly to Arvidsjaur in the winter to play golf on an expertly prepared golf course with packed snow. Putting is almost as good as in summer golf!

Margareta Lidskog
Founder of SwedArt™

Check out our Etsy SwedArt™ Shop at www.swedart.etsy.com as well! It is a site for everything handmade and all listed items are available for immediate purchase.